Definitions and Abbreviations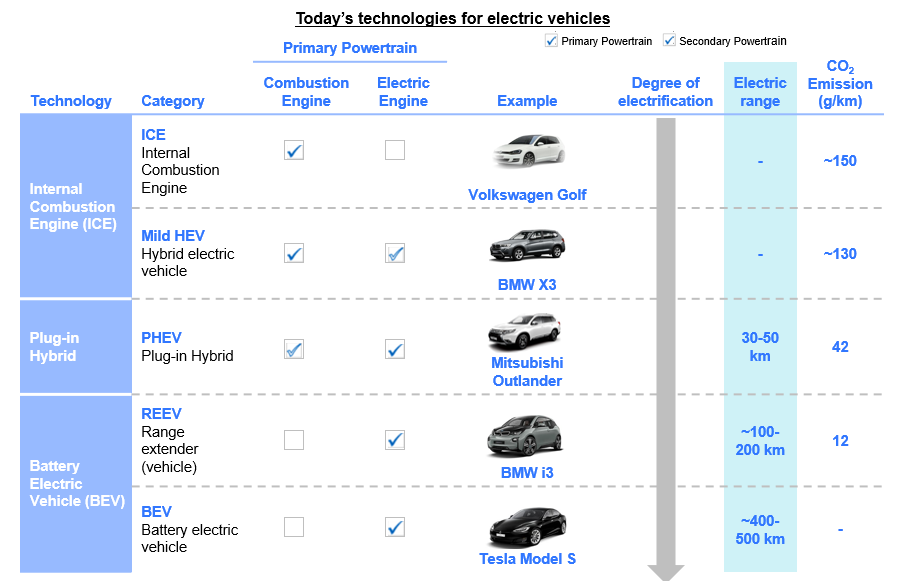 EV growth in the Asia-Pacific region can be attributed to the high growth in China, Japan and South Korea.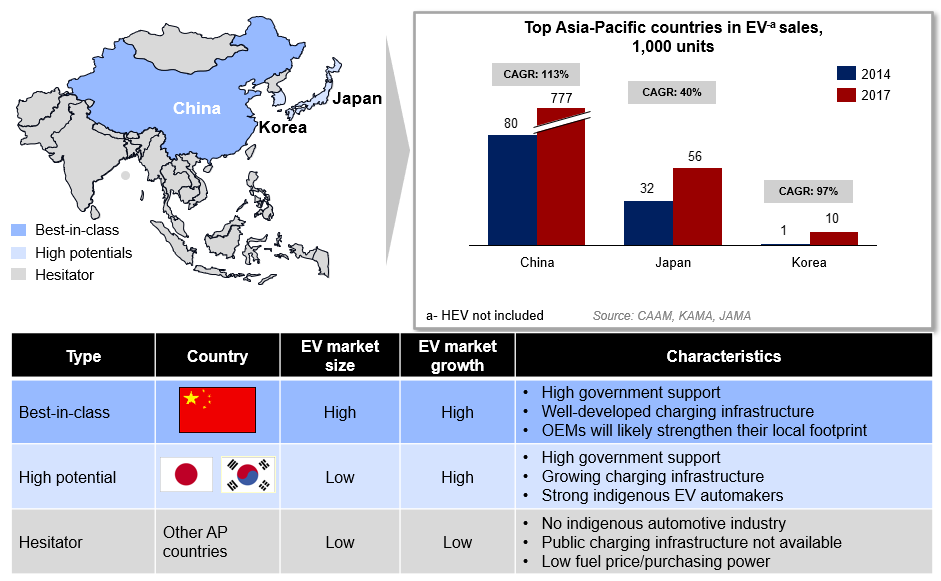 Despite ambitious goals, EV market conditions in other Asia-Pacific countries are not mature.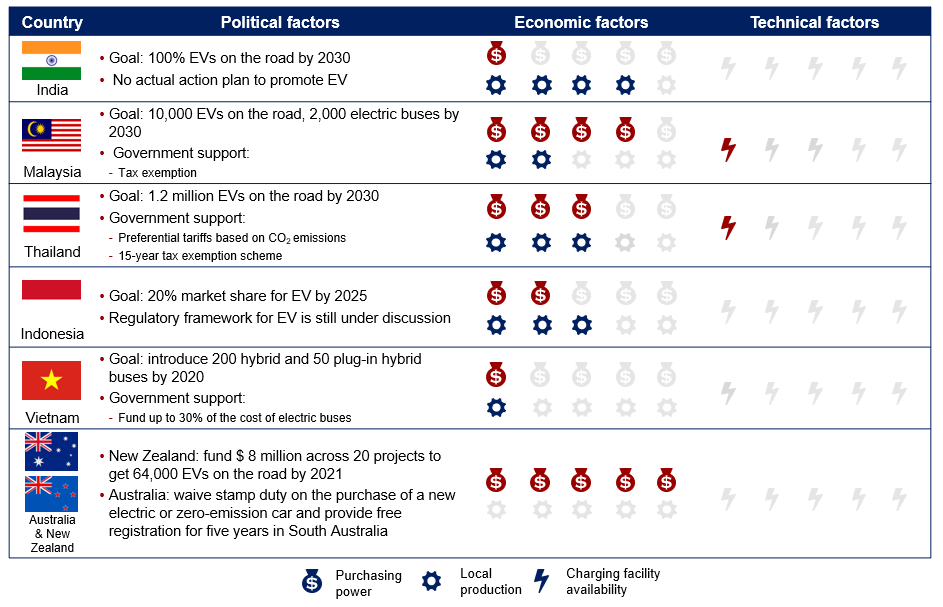 The Chinese EV market has been in a high-growth stage since 2016, driven by government incentives.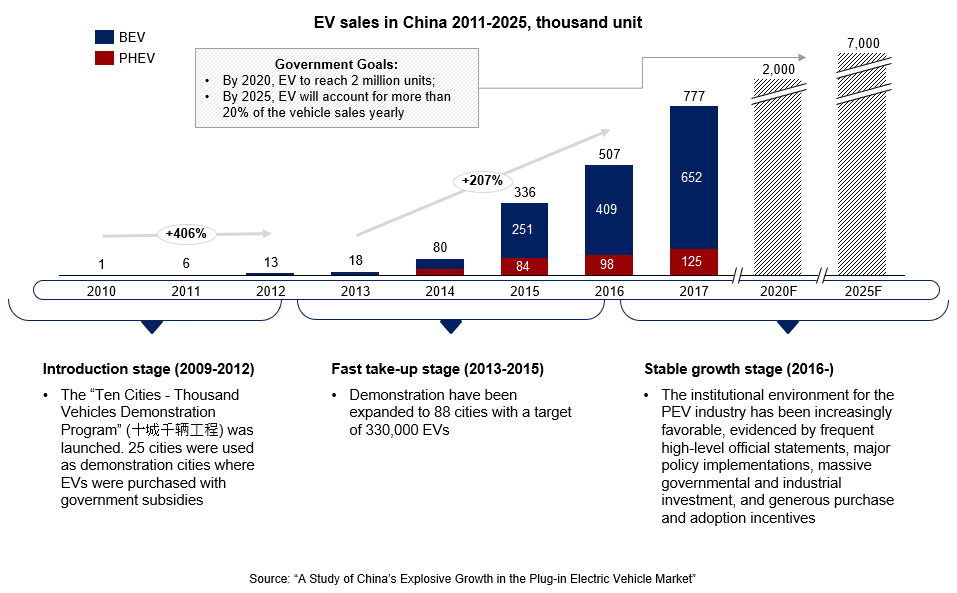 Indigenous companies have dominated the Chinese EV market by taking an early lead.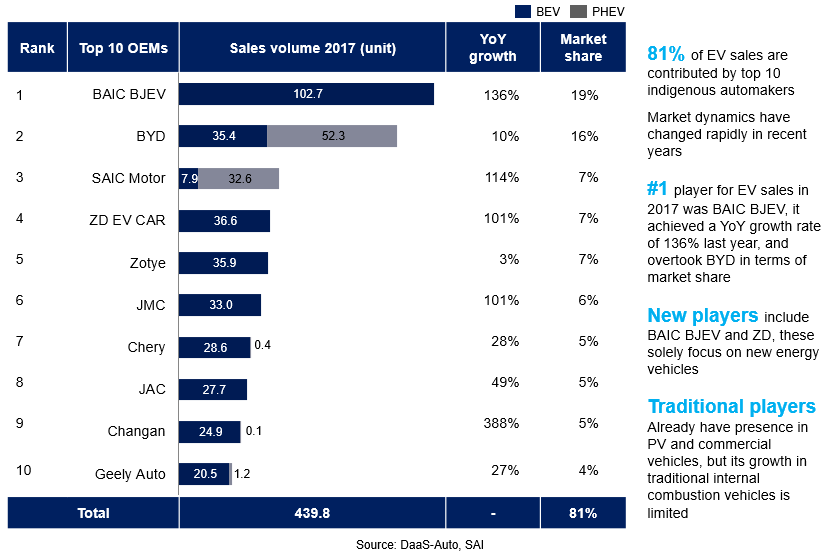 Trends of the Chinese E-Vehicle Market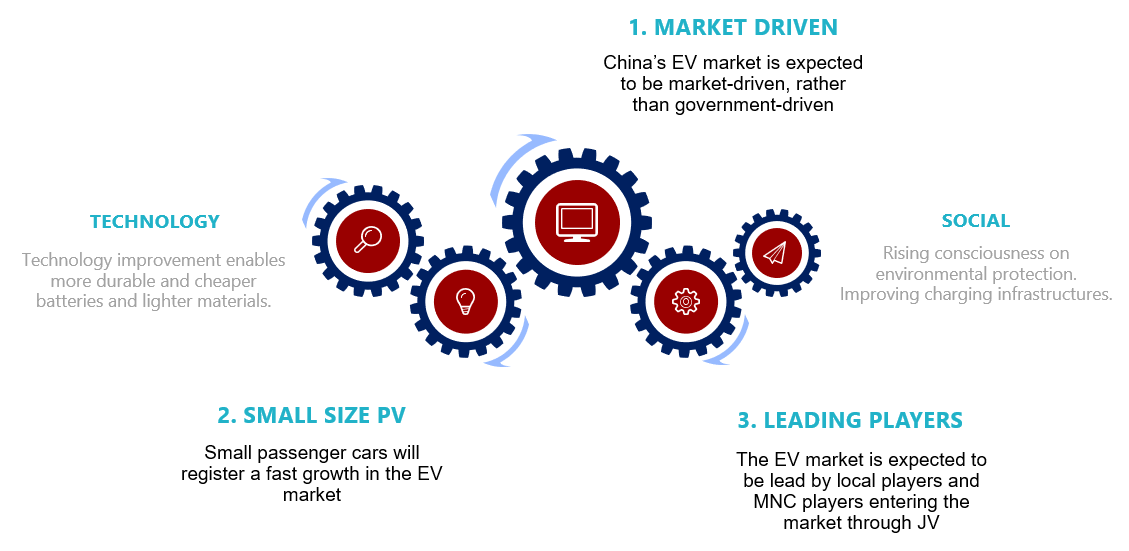 Trend 1: China's EV market is expected to be market-driven, not government-driven.
New EV rules introduced in 2017 request automakers to promote EVs
Automakers are required to produce or import >50,000 vehicles a year in the Chinese market to ensure at least 8% of sales are NEVs by 2018. This proportion will rise to 10% in 2019 and 12% in 2020
"New Energy Credit" can be exchanged for investment. EV manufacturers earn New Energy Credit by investing in R&D and EV sales. Credit can be used to apply for new investment funding to support growth
Declining battery costs reduces price
The price for power battery systems is estimated to drop 51% to 1.02 RMB/W in 2020
Currently battery system accounts for 35-45% of the vehicle's cost. This percentage is likely to decrease to below 35% as the battery cost decreases at a higher rate. As a result, the overall EV cost will also decrease about 45% by 2020. The lower price of e-vehicles will be able to support the sales increase even when government incentives decrease at the same time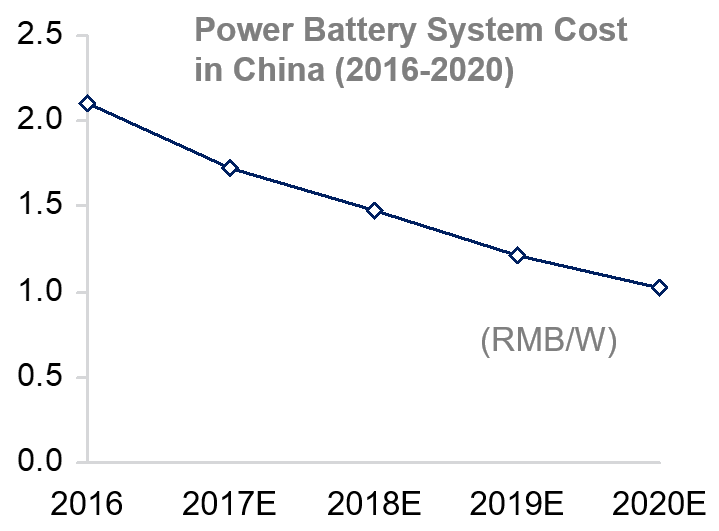 Explosive growth in charging infrastructure
Slow and fast chargers are available
In 2016, more than 100,000 public charging piles were set up in China, double the number in 2015. The total number of charging piles is 150,000. Major cities such as Beijing, Shanghai and Shenzhen have established large-scale charging networks and facilities
Source: IEA, SAI
Trend 2: Small passenger cars will register a fast growth in the EV market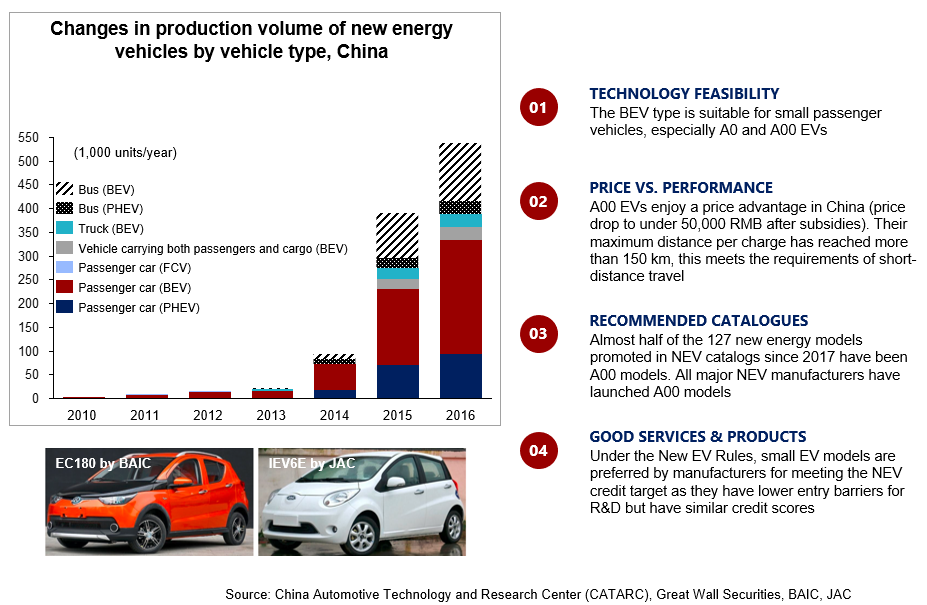 Trend 3: Strong local players will lead the future EV market, MNCs will enter using JVs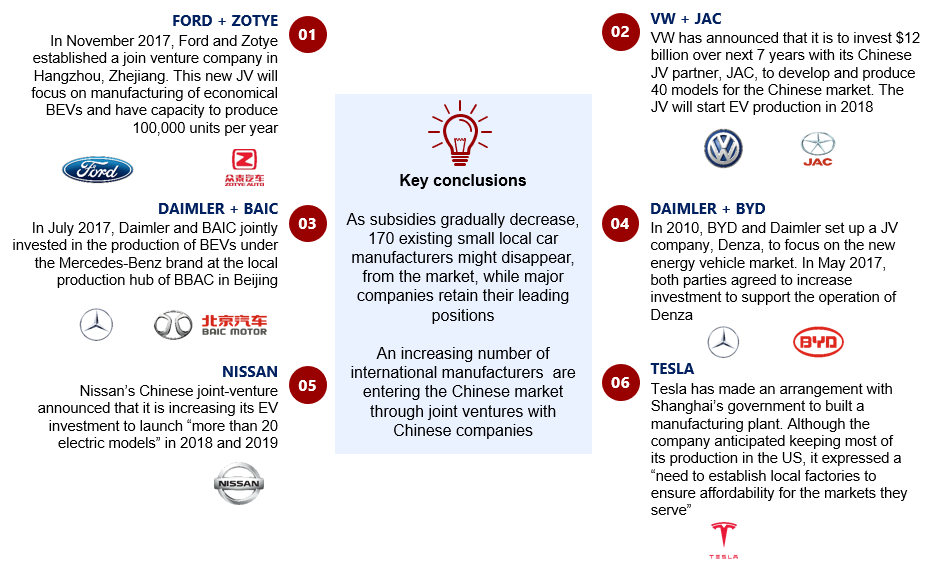 The Japanese EV market has been driven by users and has expanded with HEVs occupying an overwhelming share.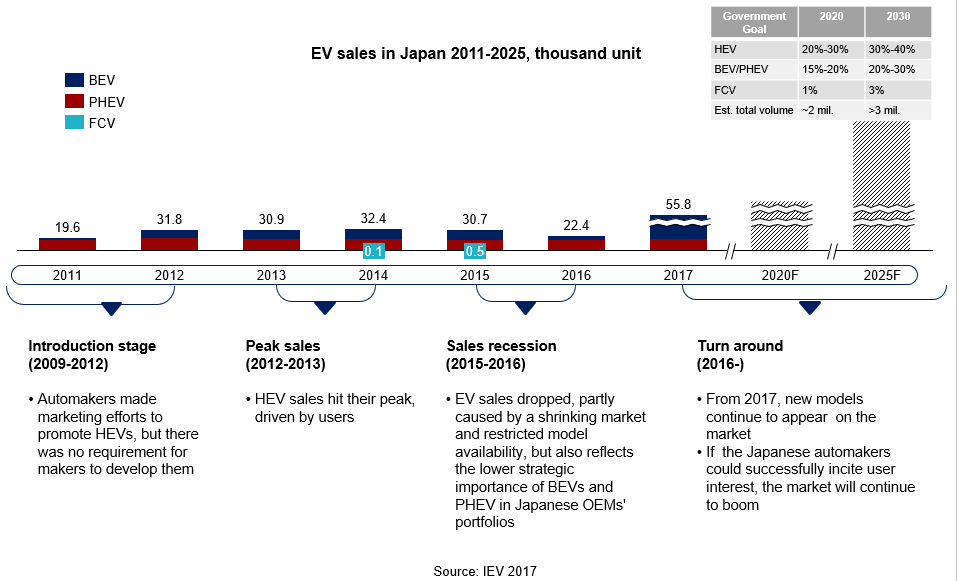 The Japanese EV market is highly concentrated and three indigenous OEMs dominate.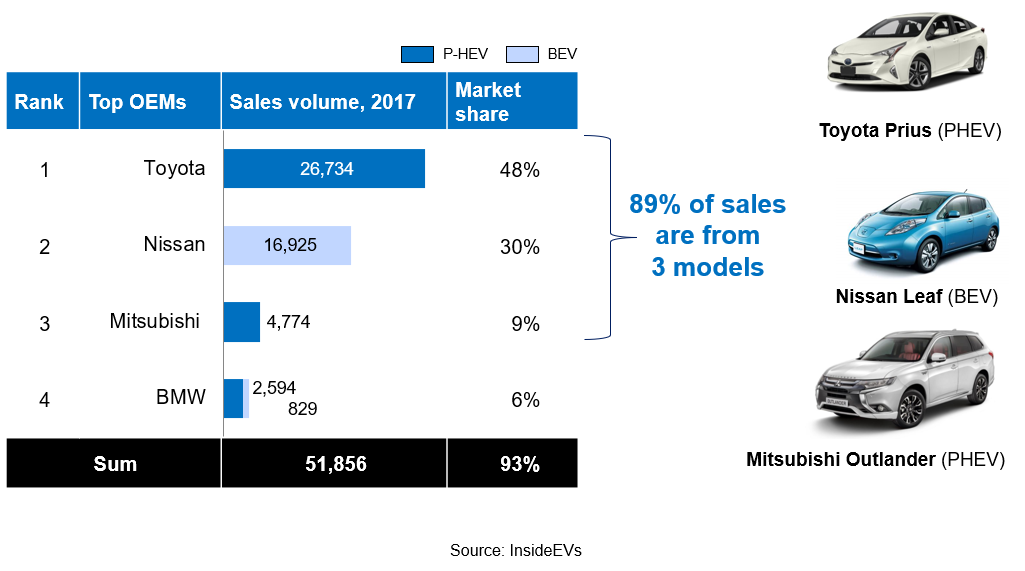 FCVs will be the major focus in the Japanese market.
Despite the focus on FCVs, Japanese OEMs have to develop HEVs and BEVs to catch up global rivals.

SAI' s View
HEV and PHEV will likely still dominate the Japanese EV market by 2025 due to:

Japan's unique road conditions such as low mileage driven, many curves and hills and many stop-and-go- traffic jams
Domestic OEM's focus on these patterns
The South Korean EV market is still in its infancy.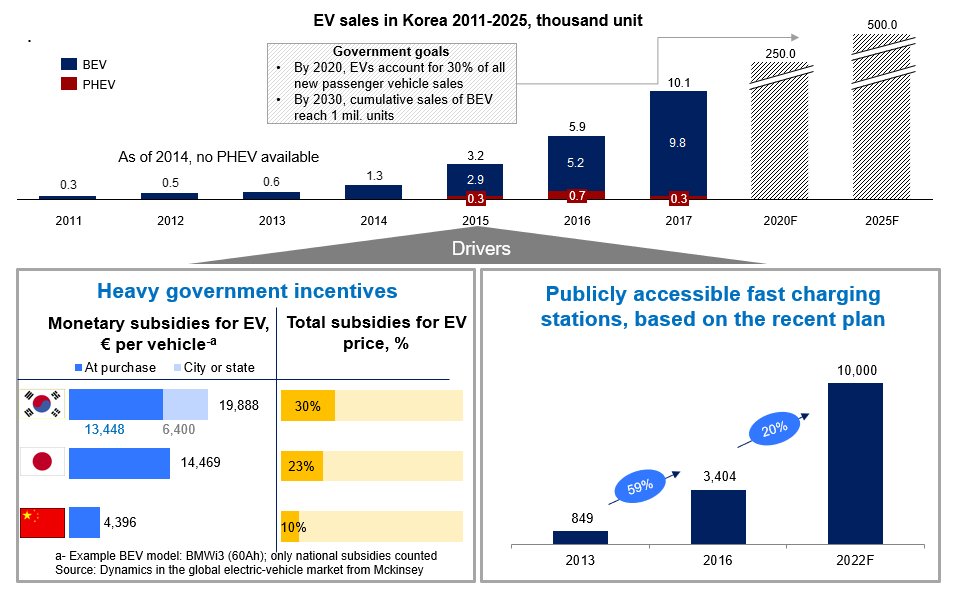 Indigenous OEMs occupy 98% of the Korean EV market.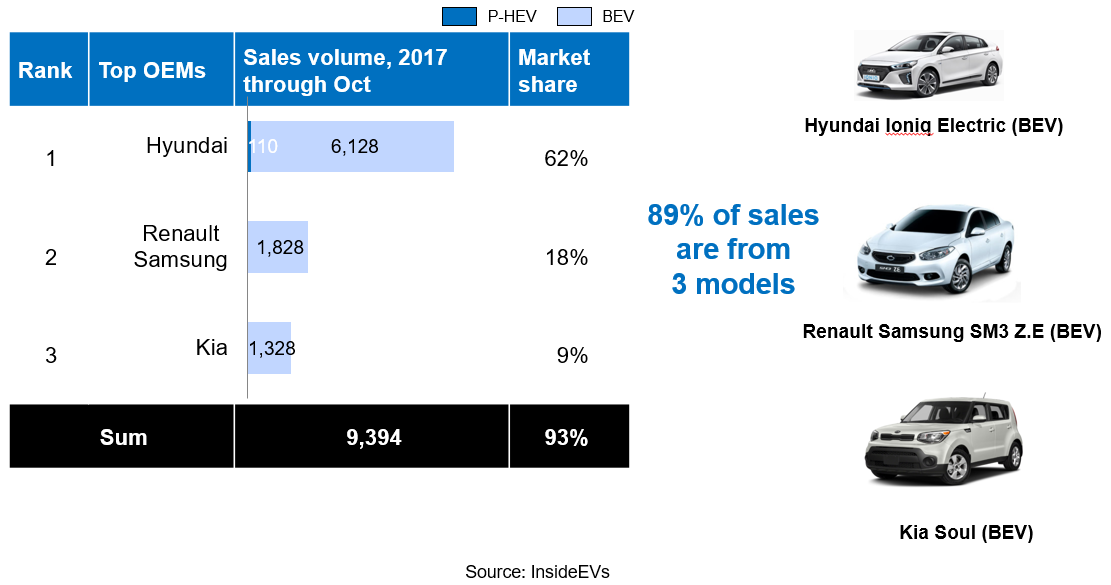 Impact of e-vehicles on relevant industries.