The Internet of Things (IoT) can be thought of as a network of physical objects or 'things' that have been embedded with electronics, software, sensors and connectivity to enable these objects to collect and exchange data. The IoT allows these objects to be sensed and controlled remotely across the existing network infrastructure. This creates opportunities for more direct integration between the physical world and computer-based systems which results in improved efficiency, accuracy and economic benefit. A key aspect of the IoT is that although each 'Thing' is uniquely identifiable through its embedded computing system, each is able to interoperate individually within the existing Internet infrastructure.
The IoT is currently beginning to impact a wide array of sectors and industries, ranging from automotive to utilities to the agriculture industries, to reduce inefficiencies and improve performance. Current or near-term applications are only scratching the surface of the way applications or use cases will be impacted.
The farming industry will become arguably more important than ever before in the next few decades. The world will need to produce 70% more food in 2050 than it did in 2006 in order to feed the growing population of the Earth, according to the UN Food and Agriculture Organization. To meet this demand, farmers and agricultural companies are turning to the Internet of Things for analytics and greater production capabilities.
The IoT is set to push the future of farming to the next level. Smart agriculture is already becoming more commonplace among farmers, and high tech farming is quickly becoming the standard thanks to agricultural drones and sensors.
Farmers have already begun employing some high tech farming techniques and technologies in order to improve the efficiency of their day-to-day work. For example, sensors placed in fields allow farmers to obtain detailed maps of both the topography and resources in the area, as well as variables such as acidity and temperature of the soil. They can also access climate forecasts to predict weather patterns in the coming days and weeks
As a concrete example, John Deere (one of the biggest names in farming equipment) has begun connecting its tractors to the Internet and has created a method to display data about farmers' crop yields. Furthermore, the company is pioneering self-driving tractors, which would free up farmers to perform other tasks and further increase efficiency
The process of using satellite imagery and other technology (such as sensors) to observe and record data with the goal of improving production output while minimizing cost and preserving resources all help make precision farming or precision agriculture possible
Smart agriculture and precision farming are taking off, but they could just be the precursors to even greater use of technology in the farming world.
BI Intelligence predicts that IoT device installations in the agriculture world will increase from 30 million in 2015 to 75 million in 2020, for a compound annual growth rate of 20%
OnFarm, which makes a connected farm IoT platform, expects the average farm to generate an average of 4.1 million data points per day in 2050, up from 190,000 in 2014
Furthermore, OnFarm ran several studies and discovered that for the average farm, yield rose by 1.75%, energy costs dropped $7 to $13 per acre, and water use for irrigation fell by 8%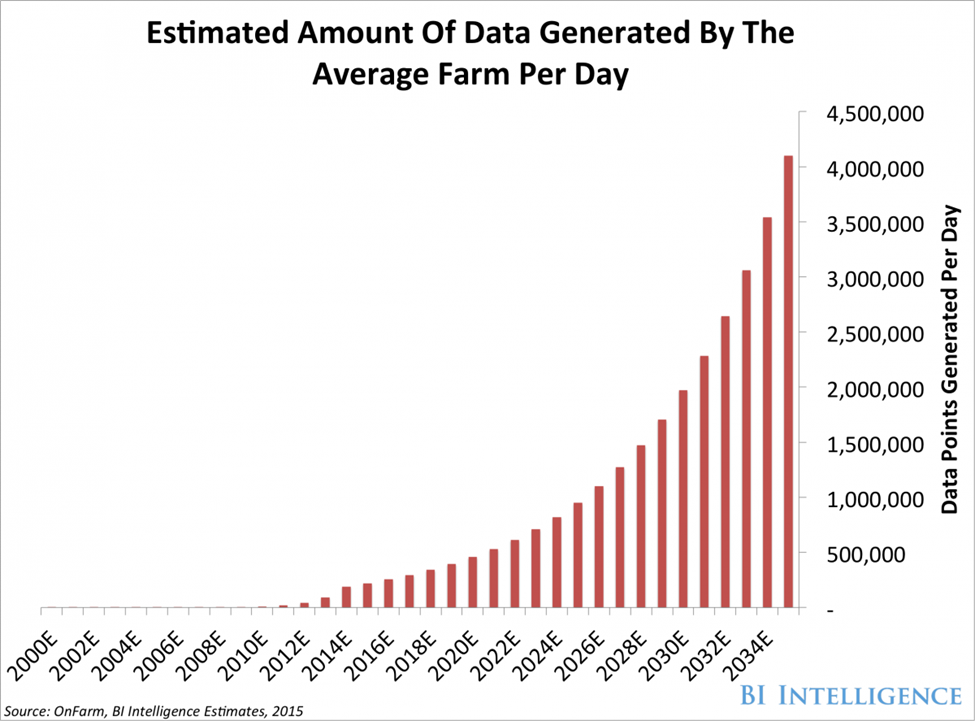 It is time to take actions:
Schneider Electric bids to the weather analysis provider for agriculture across the United States (Dec 2015)
IBM Research leverage The Weather Company's atmospheric map to co-developed hyper-local forecasts (Jun 2016)
Farmlink (An agricultural data analytics company) raises $24.6 million in Series B equity funding (Jan 2016)
GE Digital's Predix enabling TempuTech's equipment monitoring solution

GE Digital achieved $4bn revenues in 2014, aiming for $15bn in 2020
Your strategic partner
SAI, an international business consulting firm, has supported its clients for over 35 years with business intelligence services globally across the agriculture industry providing insight and decision support. Founded in 1977, SAI is a knowledge-led international consulting firm with over 375 employees in 13 operations worldwide.
Explore your growth options, address challenges within your industry, analyze investment and acquisition strategies and make better corporate decisions with the confidence and clarity that SAI can provide.
To further discuss your needs and interests, and to learn how SAI can best assist you, please click here to contact us.