SAI'S POINT OF VIEW ON PLASTIC RECYCLING
Improving plastic recycling efficiency in China solves 1/4 of global plastics waste problem.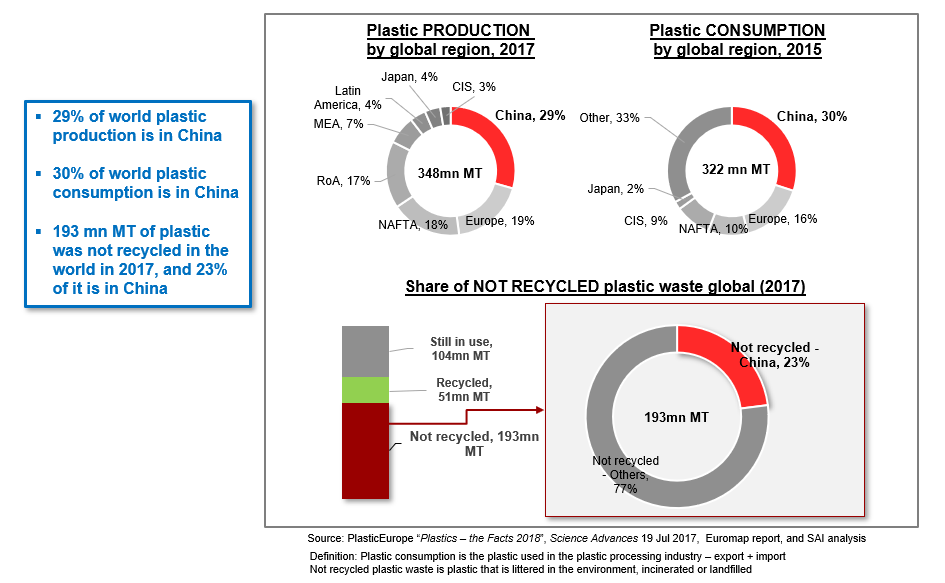 73% of plastics waste generated in China is NOT recycled. Municipal and manufacturing plastic waste accounts for the vast majority of plastics waste.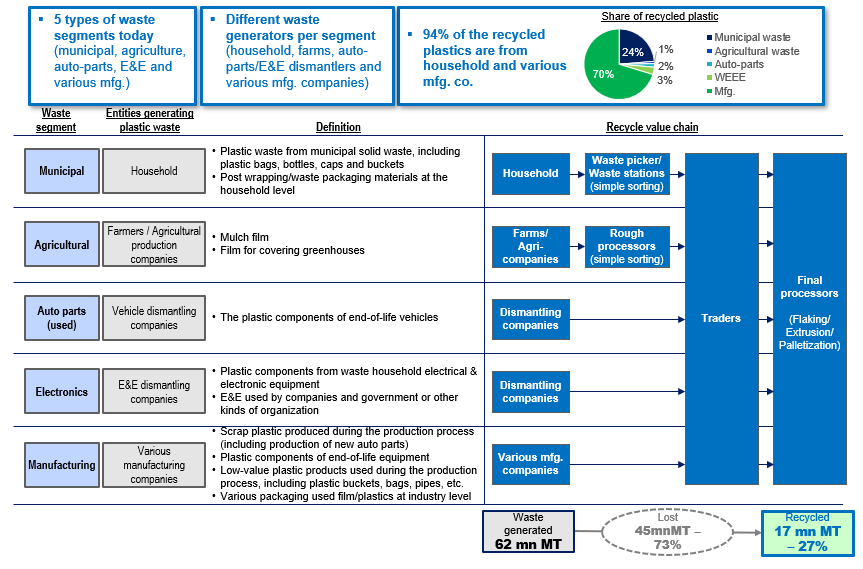 Only 22% of municipal plastic waste is recycled and 31% of manufacturing plastic waste is recycled – all stakeholders in the plastics value chain have opportunities to benefit from increased recycle rates.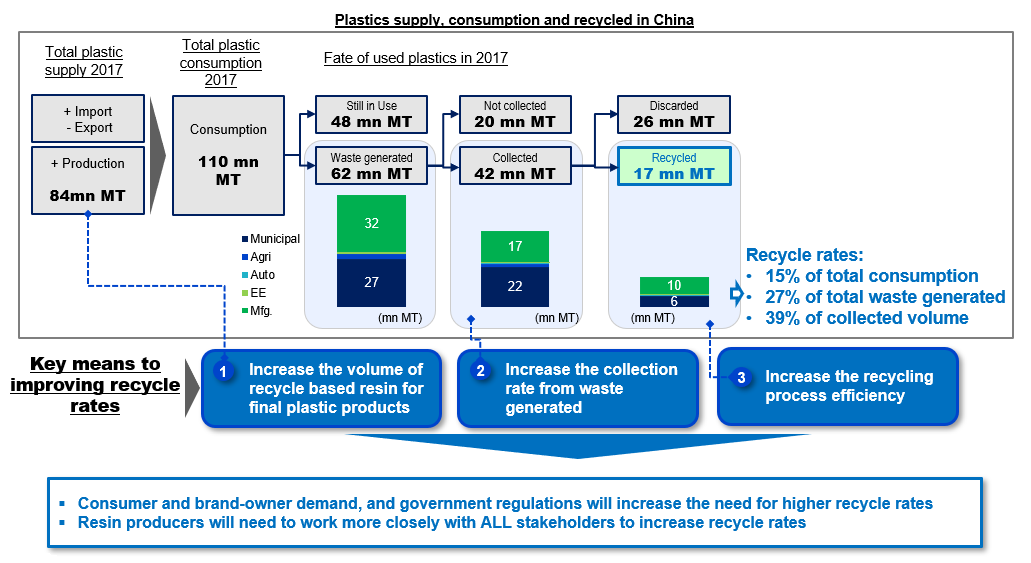 Low margins and shortages of good quality raw material supply are key issues in China's plastic waste recycling industry. China's ban on the import of waste has been a major contributory factor to these issues.
SAI SERVICES IN THE CIRCULAR ECONOMY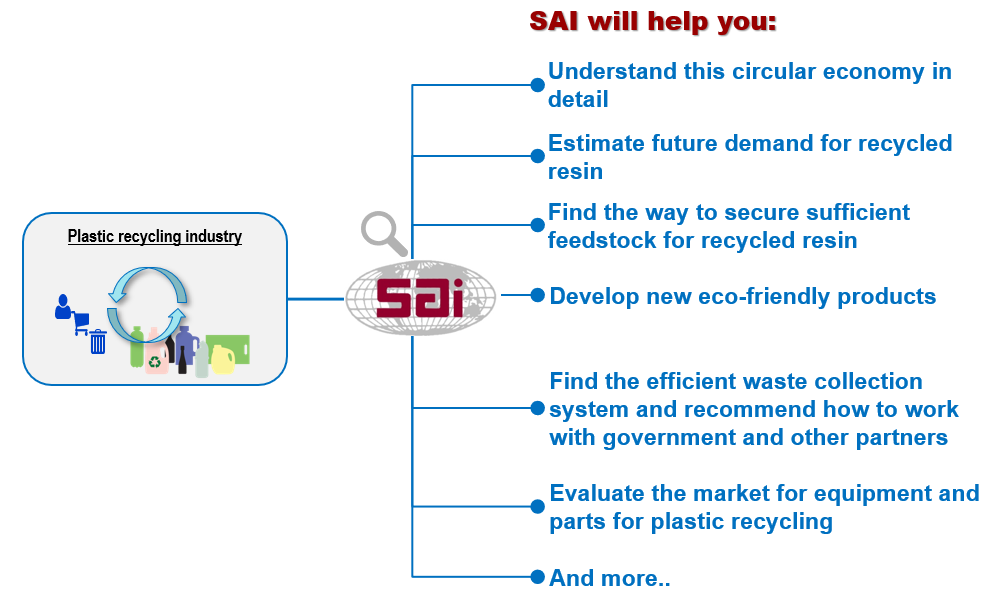 SAI'S EXPERIENCE IN MATERIALS RECYCLING AND REUSE
PLASTICS RECYCLING
SAI is a leading business consulting firm in the area of plastics recycling
In addition to its extensive project experience for individual clients, SAI has contributed to the industry through conferences and seminars, as summarized below:

Project experience

Dozens of single-client studies
In-depth multiclient study, Plastics and the U.S. Environment: Opportunities in Degradable and Recyclable Plastics
Project for American Plastics Council (Society of the Plastics Industry)

Industry conferences

SAI's conferences

Profits in Recycling and Degradable Plastics (US)
Profit Opportunities in Recyclable and Degradable Plastics: Western Europe (Brussels, Belgium)

Conference held jointly by SAI and Modern Plastics

From Waste to New Profits (US)

Papers presented by SAI at the American Chemical Society's national meetings

"Major Players in Plastics Recycling:  Who's Who and How Did They Get There" (San Francisco, CA)
"The Effect of Recyclability on Intra- and Inter-material Competition in the Polymer Industry" (New York, NY)

As a result of its experience, SAI maintains a network of contacts in industry, government regulatory agencies, trade groups and other organizations impacting the plastics recycling industry
SAI has also completed numerous assignments in plastic and other waste recovery and environmental control industries including:

Asia Pacific Plastics Recycling Industry Assessment
China Recycled PET Market Analysis
Profit Opportunities in Recycled Plastics
Opportunities for Recycle/ Recovery of  Plastics in the Furniture and Furnishings Markets
Assessment of Opportunities in the Environmental Control Market in China
Feasibility Study for Plastic Recycle in Middle East
Assessment of Environmental Management Services Market-Entry Strategies in Taiwan
Assessment of Hazardous Waste Management in Japan
Asian Environmental Profiles
Assessment of Opportunities in Recyclable and Degradable Plastics
China Environmental Funding and Representative Review
Assessment of the Non-ferrous and Noble Metals Reclamation Industry in China
Assessment of Waste Heat Recovery Market in China
Focused Assessment of the Galvanizing Residues Market in China
Assessment of Recyclers and Recycling Market for Used and Wasted Laminated Glass
ROLE OF SUSTAINABLE PACKAGING TO THE PACKAGING LIFE CYCLE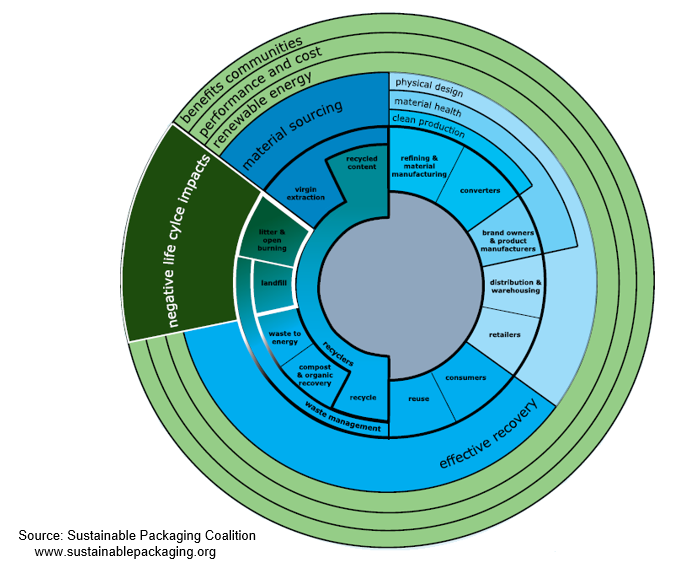 CASE EXAMPLE:  CHINA PLASTICS RECYCLING
OBJECTIVE:  SAI conducted a study for a global resins producer with the objective to assess the plastics waste recovery and recycling industry in China
APPROACH:

SAI first undertook a high level assessment of the plastics waste recovery industry in Asia with a focus on China, India and Indonesia. The purpose of this phase was to compare the amount of plastic waste generated and recycled between different countries and also to determine key initiatives by government and private enterprise to increase the percentage of plastic recycled in Asia
SAI then conducted a deeper detailed analysis in China. This phase of the project developed the following key knowledge of plastics waste recovery and recycling in China:

Mapped the value chain by key segments such as municipal, industrial, agriculture, automotive, electronics and healthcare
Identified the key stakeholders in the value chain from waste generators, waste collectors, traders, recyclers, processors, brand-owners, associations and government
Key regulations
Volume of plastics waste generated and recycled by key provinces with focus on PE and PP
Economics and margins at the various levels of the plastics recycle value chain

RESULTS:  SAI developed key recommendations and conclusions on the issues facing the plastics recycle industry in China and the potential opportunities for establishing a recycle business in China. SAI's recommendations included steps to be taken to initiate discussions with circular economy stakeholders, assess and initiate discussions with potential partners including recyclers and brand-owners.
CASE EXAMPLE:  RECYCLING SERVICES
OBJECTIVE:  SAI conducted a study for a U.S. recycler of paper, plastics and non-ferrous metals with a specific initiative for growth.  The study evaluated more than 20 potential services which were relevant extensions of the client's current recycling services and defined the market attractiveness of each of these potential areas according to the client's criteria
APPROACH:

SAI established seven criteria with a weighted 5-point rank scale
SAI then ranked the 20 segments and several sub-segments along each of the criterion
SAI has developed information on:

Market size and growth
Competitive intensity
Gross profit margin
Synergies with current client business
Vertical integration
Risks

RESULTS:  SAI was able to prioritize the segments by comparing the market attractiveness (based on a ranking system) with the probability of success (defined as synergy with current business and degree of vertical integration).  Eight of the market segments exhibited significant attractiveness and synergy to the client's business.  Additional project phases were initiated to analyze in detail acquisition candidates and to assess the top two more attractive markets
CASE EXAMPLE:  RECYCLED PLASTICS
OBJECTIVE:  The project objective was to help a client capitalize on its new, unique technology related to recycling plastics
APPROACH:  SAI developed:

An extensive assessment of the historical, current and future supply of a particular recycled plastic by type (e.g., ground or baled mixed bottles, etc.) and source (both postconsumer waste and postindustrial scrap)
A correlation of historical prices of the recycled-content resin with chemical feedstocks, virgin resins and recycled scrap
Factors affecting future supply/demand for the particular recycled plastics, including:

Government regulations, advanced disposal fees, national bottle bill, etc.
Curbside collection programs
Availability of curbside deposit and industrial recycled plastics
Costs of collection, material recovery and reprocessing
Demand for products manufactured from the recycled-content resins
Other issues

A cost analysis of material recovery facilities (MRF's), recyclers and resin reprocessors

RESULTS:  Armed with this detailed analysis, SAI was able to guide the client in how to maximize the value and potential for its new technology.
SAI ASIA HAS OVER 25 YEARS OF ON-SITE EXPERIENCE IN A WIDE RANGE OF INDUSTRIAL SECTORS
SAI completes over 150 projects annually in the Asia Pacific region supported by:

Global presence with strong and experienced local staff
Successful track record of over 25 years of project delivery in Asia Pacific for multinational clients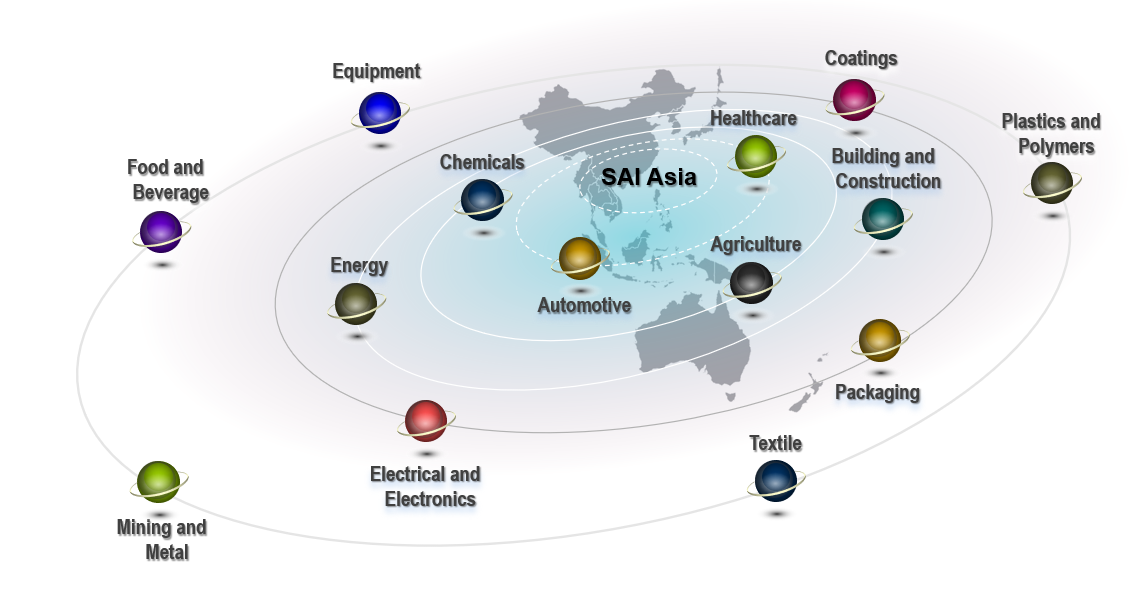 COMPREHENSIVE GLOBAL ORGANIZATION
PROJECT STAFFED WITH LOCAL PERSONNEL