Despite rapid growth over last 10 years, e-commerce still has large penetration potential globally
Global e-commerce:

Has been expanding at ~20% CAGR over the last 10 years
Still had <10% share of retail trade in 2016, ranging from:

Almost 20% in South Korea, to
10% in the United States, to
Only 5% in some major emerging economies such as India and Brazil

United States and China are by far the two largest e-commerce markets

2016 online sales are estimated at:

China:  ~$365 billion
United States:   ~$310 billion

E-commerce share is projected by 2020 to account for:

~35% of retail sales in China
>15% of retail sales in the United States

According to DHL, 15% of current e-commerce sales are currently cross-border and this should exceed 20% by 2020 as leading e-commerce firms grow outside home markets and logistics networks become more integrated globally

E-commerce sales are expected to continue growing briskly across major product categories in the United States
Aside from books, which have already shifted substantially to online sales, highest e-commerce share penetration potential in the United States continues to be seen in office equipment, electronics, toys, clothing, home furnishing and other consumer goods
Online sales of food and beverage, pharmaceuticals/nutraceuticals and other CPG (consumer packaged goods including home & personal care, beauty & cosmetics) are expected to show more modest, but steady gains from a low penetration base, but will still have major impact on e-commerce packaging demand and trends due to their absolute volumes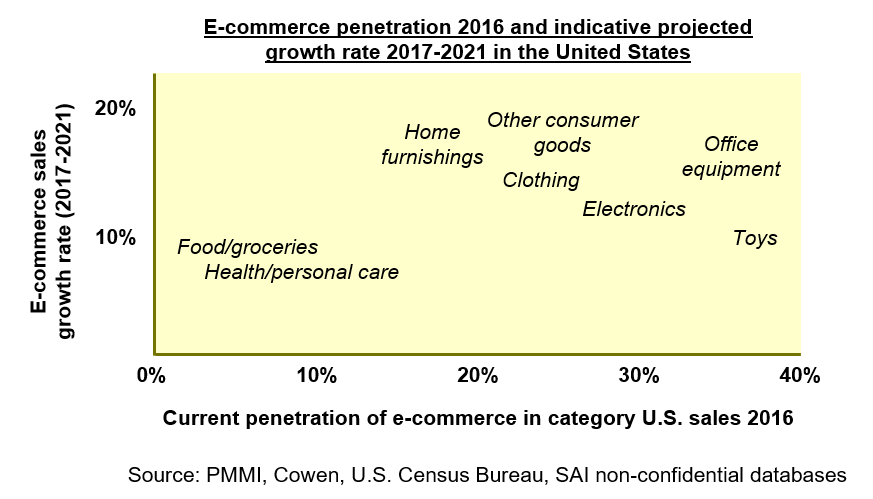 E-commerce is driving changes in packaging at multiple levels
Brands and CPG manufacturers are having to reassess how they package products for the online shopper and to adapt to new generations of tech-savvy consumers
Key trends in e-commerce packaging include increasing commitment to sustainability alongside need for cost-effectiveness of operations, for example:

Easy-to-return packaging (e.g. with resealable plastic mailers, corrugate with tear strips)
Second-life (re-useable) packaging
PEFC (Programme for the Endorsement of Forest Certification) certification
Paper as fill, including pre-consumer recycled material

Key packaging-related consumer concerns include:

Integrity of packaging upon delivery (no damage)
Size of package relative to items(s) being shipped
Excessive volume of secondary packaging
Ease of opening
Overall user-friendliness, including instructions

E-commerce is also generating demand for innovative packaging with radio frequency identification (RFID) and smart features optimized for last-mile delivery

As the Internet of Things (IoT) expands, auto-replenishment services (e.g. Amazon Dash Button) are also impacting how products are purchased
Online purchases create opportunities for richer brand experiences through video, 3D visualization, options for personalized packaging, "decorate-it-yourself" labels, portion-controlled snack boxes (e.g. Graze) that are customized by buyer for shipment, etc.
Source: PMMI, Jabil, SAI non-confidential databases
E-commerce creates need for "omnichannel" branding and primary packaging designs that work both online and in-store
In e-commerce, the so-called "First Moment of Truth" (FMOT) of a product's visual impact on the retail shelf is replaced by what Google has termed the "Zero Moment of Truth" (ZMOT), as consumers research products or services online before making purchase decisions
Respondents to a 2015 PMMI survey differed in how they see the impact on packaging design

Some argued for unified primary packaging design between online and retail sales, to limit number of SKUs and associated costs, and ensure brand consistency
Others believed primary packaging may differ between online and retail sales as:

Online channel gives rise to different strategies and target consumer groups
E-commerce packaging does not need to be so attractive as sale has been made

Either way, branding and graphics remain important for online sales both when consumers comparison shop online and when they "unbox" a product after delivery

In physical stores, sales are influenced by location in store, available product selection and opportunity to touch or experience (smell/taste) products
Online, products frequently have to stand out from a mass of competing products, and design (including primary packaging) is one key point of differentiation

With increasing use of smartphones for online purchases, primary packaging also needs to be effective both online and offline, with consistent  brand messaging across channels

Creates need to adapt traditional package designs for viewing on small mobile devices and distil brand and package design down to essential messages
Source: SAI non-confidential databases, PMMI, trade press
E-commerce has particular impact on protective packaging  demand and requirements
E-commerce shipping cases must be strong enough to withstand a substantially more complex, and less automated, supply chain than for traditional retail

According to Nestle, products may be handled 20+ times in e-commerce vs. 5 for in-store
Cost of replacing destroyed item can be over 15 times the cost of shipping
Negative online reviews from damaged goods can take months to counterbalance

Consumer surveys indicate that large majority of online shoppers have at some time received a package with damaged items, and in such cases are unlikely to buy from that supplier again
Parcel shipments of individual products create new packaging challenges due to rougher handling, risk of parcel movement, and greater protective function for secondary packaging
In protective packaging:

Flexible packaging (protective mailers, air pillows, bubble packaging, dunnage bags, paper fill products, etc.) will continue to dominate due to cost efficiency and versatility
Foam packaging (molded foams, rolled foam, insulated containers, foam-in-place polyurethane, loose fill etc.) is second largest segment, still popular for consumer durables and manufactured goods
Rigid packaging is growing from low base as molded pulp and paperboard protective elements benefit from sustainability trends

For e-commerce retailers, last mile delivery is most common source of damage and most difficult to control, and calls for:

Close collaboration between online retailer and logistics provider on packaging needs
Upfront engineering to identify shipping contingencies
Service Level Agreements with logistics provider to cover manufacturers' needs
Source: SAI non-confidential databases, PMMI, trade press
Process improvements and operational efficiency are key to reducing overall supply chain cost of e-commerce packaging
Order fulfillment will increasingly be performed by multiple connected players, including manufacturers, 3PLs and numerous independent packers, drivers, and parcel shippers, impacting supply chain accountability for damage in transit and last mile delivery, and raising importance of packaging for both protection and enhancement of customer experience
E-commerce is having particular impact on both processes and materials for secondary and tertiary packaging, including speed and flexibility of packaging equipment, and durability and size of shipping cases
Intelligent and scalable automation and packing systems will be needed to model, prompt and correct practices of human packers as volumes escalate
Implications and opportunities for packaging machinery suppliers include:

Automatic taping machines that can affix more or wider tape onto boxes for shipping
Inexpensive, reusable components that are easy to load and reload
Robots that can place products in corrugated boxes with human quality control
Use of higher graphics printing
Flexibility to divert products into different numbers of case-packing machines
Opportunities to customize size of boxes to minimize shipping costs
Ability to provide recommendations to customers on suitable suppliers of boxes and other materials that are compatible with their machinery
Source: SAI non-confidential databases, trade press
Increasing focus on customized packaging that is optimally sized while still fit-for-purpose for item(s) being shipped
As shipping rates continue to rise, package sizes will need to shrink continuously while maintaining adequate protection or ensuring consumer satisfaction
With increasing warehouse rental rates, supply chain participants need to identify and eliminate inefficiencies and maximize space utilization, including selection of space-efficient packaging materials
Some major e-commerce retailers have begun using new box-on-demand technology that customizes case sizes to exact size of product(s) being shipped

Eliminates need to warehouse multiple case sizes, reduces over-packaging, decreases or eliminates protective packaging, and optimizes case sizes
Eliminates need for void fill, such as packing peanuts and other cushioning
Optimizes volume of cardboard needed to make specific box sizes
Protects product better from damage during transport
Can produce boxes in real time, with case sizes managed automatically through product recognition or directly from a database

Customization and personalization in delivery and logistics will be key differentiators as suppliers try to compete beyond delivery date, price and terms by meeting consumers' delivery preferences, handling return shipments, and using packaging materials that can be recycled in the local area
Source: SAI non-confidential databases, trade press
Sustainability is driving greater use of recyclable and compostable packaging materials and related innovation
Companies shipping products are increasingly paying attention to sustainability, driven by concerns about:

Customers' perceptions
Quality and functionality
Cost (often cited as a barrier to expanding e-commerce sales)
High level of returns in e-commerce (20-30% versus <10% in traditional retail) due to:

Less opportunity to physically evaluate products before purchase
Higher risk of damage during transit

Environmental impact of packaging used, including its:

Recyclability
Compostability

Where required for shipping (e.g. void fill, cushioning, blocking, bracing, and wrapping) suppliers are introducing more sustainable alternatives to traditional materials, such as:

Polyethylene air cushioning and bubble wrap from recycled content
100% renewable, recyclable and reusable paper packaging
100% recycled-content and recyclable molded pulp packaging

Innovations include:

Mushroom root-based packaging (Sealed Air's Restore® Mushroom® Packaging) as alternative to expanded polystyrene
YFY Jupiter's Npulp® based on waste straw from Chinese wheat and rice farming
Source: SAI non-confidential databases, trade press
Rapid growth in online grocery sales in particular creates need for cost-effective shipping solutions for low value items…
While e-commerce has traditionally focused on non-consumable products, online sales of grocery products have grown at double digit rates over the past several years, versus only 3% annually for in-store sales

Control is shifting from retailer to manufacturer and distributor, and power in the channel is held by those that manage inventory
Manufacturers need to considering selling direct-to-consumer (DTC) and developing a specific supply chain for this channel

DTC e-commerce enables better brand management in online channels
Introduces expense of develop entirely new supply chain to support e-commerce, and cost of shipping heavier grocery items, among others

E-commerce accounted for <1% of grocery sales in 2012, but is projected to exceed 15% within the next five years by some retail consultancies, driven by:

Consumer convenience, above all
Online shopping preference of "Millennials" that are increasing buying for own households
Ease of shopping across multiple devices
Same-day delivery, and greater pick-up and delivery options
Source: SAI non-confidential databases, trade press
… especially in response to adoption of dimensional weight pricing by freight carriers
There e-grocery models have emerged

Home delivery (e.g. Amazon Fresh, FreshDirect, Netgrocer.com, Peapod, Schwan's)

Insulated plastic totes are often used for unattended deliveries, allowing for later delivery or subsequent collection by the consumer

Click and collect (e.g. Walmart, Kroger)

Consumers order groceries online from physical stores, and collect purchases at specified locations

Personal shoppers (e.g. Instacart)

Online grocery service under which consumers order products online and personal shoppers select the items from various stores and deliver directly to the consumer

Particular challenge for retailers is shipping lower-value products, especially those that are dense or lightweight, to consumers quickly while keeping costs down

In past, retailers were charged for freight based on weight of package
Since 2014, many carriers have introduced new pricing method for freight called dimensional weight, or volumetric weight, pricing, and now charge for whichever measure is higher, package weight or size/dimension

Incentivizes use of lighter weight packaging materials
Source: SAI non-confidential databases, trade press
Foodservice packaging is also impacted by retail e-commerce packaging trends
In its latest Trends Report, the Foodservice Packaging Institute highlights the proliferation of food delivery options for today's consumer, including:

Meal kits and delivery programs
Prepared food couriered by third-party vendors
Take-out and delivery options from traditional dine-in foodservice establishments

These delivery options raise additional performance requirements for foodservice packaging to ensure that meals are delivered hot, fresh and safe to consume, with appropriate branding
Related trends include continued interest in tamper-evident packaging and food safety, including innovations like time and temperature color-changing indicators/labels for home-delivered meals that help keep food fresh and safe
Industry participants continue to observe a movement away from polystyrene to other resins, paper and molded fiber due to growing interest in foodservice packaging that can be recycled and / or composted
Source: Foodservice Packaging Institute (FPI)
Meal kit delivery services are a fast growing sub-segment of the grocery/food service market
Meal kit suppliers have responded to consumer concerns about packaging waste by:

Creating outer shipping boxes and packing materials that are fully recyclable and compostable, made from sustainable materials
Sourcing green packaging for meal components that is recyclable or compostable
Creating freezer packs that contain mostly water and no toxic fluids
Pre-labeling and pre-paying for shipping containers to be returned for reuse

Market examples (illustrated on next slide) include the following:

Plated.com switched in 2015 from corrugated shipper, insulated plastic liner, and frozen gel packs for its meal-kit ingredients to shipper made from 100% recycled fiber and recycled jute sacks (to replace liner) from discarded burlap bags for coffee and cocoa
Kore Kitchen in early 2016 moved to glass and biodegradable packaging. Uses:

Biodegradable non-laminated containers from Sabert made from bagasse, a byproduct of sugarcane processing
"Greenware" salad dressing containers from FabriKal made of compostable polylactic acid derived from corn

Freshly, a ready-to-eat meal delivery service, introduced a "new, sustainable look, Freshly 2.0." in 2016

Eliminates use of dry ice and expanded polystyrene
Replaces them with biodegradable, recycled denim and nontoxic, water soluble and recyclable gel packs
Source: SAI non-confidential databases, trade press
Meal kit packaging examples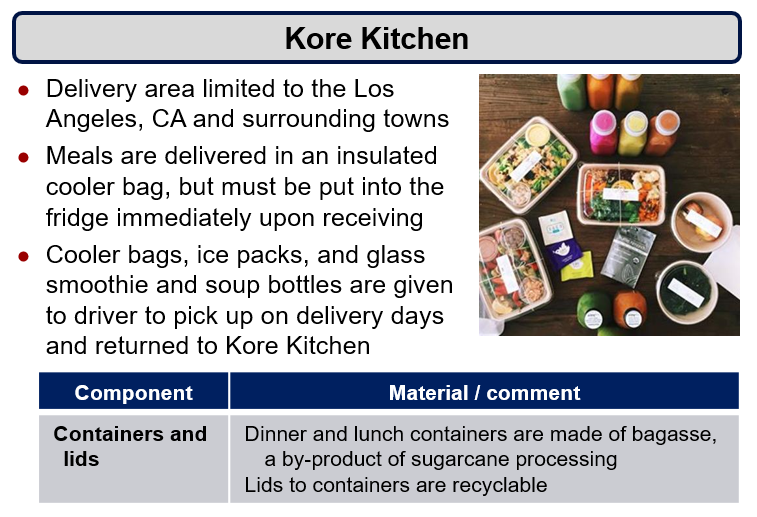 Pharma industry is increasingly adopting e-commerce as a sales channel, including for temperature-sensitive products
In 2015, Pharmaceutical & Medical Packaging News surveyed supply chain professionals to better understand activities of manufacturers of pharmaceuticals, medical devices, and other healthcare related products related cold-chain packaging. Select findings include:

Share of temperature-sensitive products shipped by type (rounded)

30% refrigerated products
15% frozen products
50% controlled room temperature products
30% products that cannot be allowed to freeze

Share of cold-chain packaging used by type (rounded)

40% off-the-shelf solution
20% custom-designed packaging
40% mix of both off-the-shelf and custom-designed packaging

Key conclusions of the survey were that:

Less than 20% of companies had allocated resources to develop a complete, customized packaging line for cold-chain pharma packaging
Products are often shipped in packaging that is either over- or under-engineered, increasing costs or potentially putting patients in danger
Only one-third of respondents prioritize packaging and understand its cost implications
More than half of respondents have goal of <0.5% rate of spoilage in transit, but typically fail to achieve that
Source: Pharmaceutical & Medical Packaging News, SAI non-confidential databases
Spending on transport of temperature-controlled drugs is growing at roughly double the pace for pharma products overall
In pharmaceuticals distribution, a cold chain is a system of refrigerators, cold storage facilities and disposable cold boxes, organized so that temperature-sensitive medications are kept at right temperature from factory to point of use

Keeps sensitive medicines within designated temperature range as they move through supply system

Doubling of cold-chain use is primarily due to growth of biologic drugs, although insulin products and vaccines (which also require cold chain) also continue to grow strongly

In contrast to conventional drugs, biologics are manufactured inside a living system, such as a microorganism, or plant or animal cells, and are often sensitive to temperature extremes during shipment
U.S. FDA requires that refrigerated biologics be stored and transported at 2°C to 8°C (36°F to 46°F) – unless a medicine is stable at other temperature ranges

Between 2015-2020, shipping of products that require cold chain transport is projected to rise by over 50%, double the rate of increase in non-cold-chain products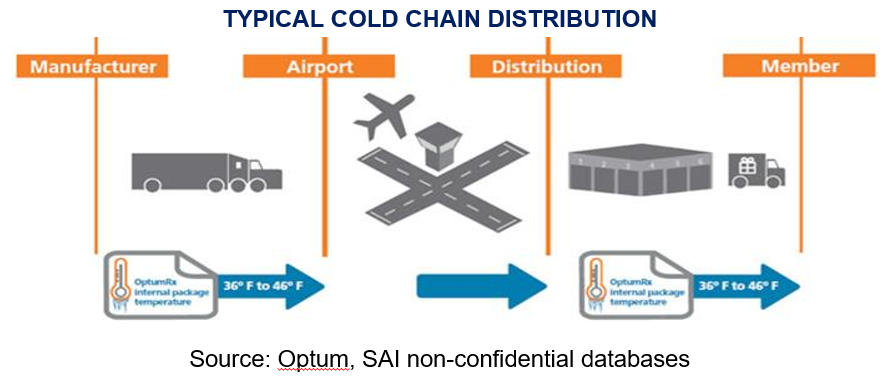 Cold chain packaging is evolving in line with market requirements
Close to $250 billion of cold-chain biopharmaceuticals is estimated to have been in distribution by 2016, up by over 50% from 2010

Majority of biotech products, vaccines, blood products and other injectables require refrigerated (2-8°C) storage and transport
Regulatory requirements for "controlled room temperature" (CRT) storage (15–25°C) and transportation are tightening, and cover most pharmaceuticals

In recent years there has been move back to "passive" (non-powered) containers, including for pallet-size shipments

Related innovations include hard-cased and reusable systems, vacuum-based insulation panels, compact composite container walls and various phase-change materials used in gel packs to provide cooling
Each type of passive cooling system has pros and cons

Weight and size are key cost drivers for air freight, and optimization of container size versus payload is key to providing a cost-effective solution
Sustainability initiatives to reduce waste from used packaging materials are also impacting package selection

Next generation of effective insulated packaging protects temperature-sensitive payloads from uncontrollable and unpredictable factors, such as ambient temperatures and transportation delays
Source: Pharmaceutical Commerce, SAI non-confidential databases