Key Definitions:
ACTIVE PHARMACEUTICAL INGREDIENT (API)
A substance used in a finished pharmaceutical product, intended to furnish pharmacological activity or otherwise have direct effect in the diagnosis, cure, mitigation, treatment or prevention of a disease or to have direct effect in restoring, correcting or modifying psychological functions in human beings
HIGH-POTENCY API (HPAPI)
The compound is generally defined as highly potent.  If it has an occasional exposure limit (OEL) of less than 10 µg/m3, a daily therapeutic dosage of less than 10 mg/day or if one mg/kg/day dose produces serious toxicity in laboratory animals
The API Market – Large & Rapidly Growing Business
Global sales of APIs are about $120 billion in 2016, including captive manufacturing and will grow to nearly $200 billion by 2021
Global sales of HPAPIs are estimated at $10 billion in 2016
While the API market is growing at a healthy rate of nearly 7% a year, HPAPIs are growing at a much faster rate in the low double digits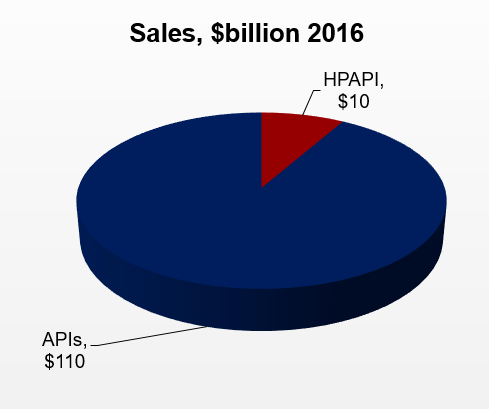 Industry Trends
Small molecules dominate and account for  about 80% of the market
The number of small molecules approved by the FDA in the last four years has averaged around 20 to 30 per year
The late stage pipeline of over 600 small molecules provides over 3000 short-term outsourcing opportunities based on multi-step syntheses and the trend towards outsourcing is increasing
By 2020, about 230 small molecule blockbuster drugs will be on the market
This resurgence is driven by chemical drug development in:

Anti-viral
Oncology
Immunosuppressant
Anti-diabetic therapy classes

Recent shift in focus to high-quality, local suppliers provides further opportunity for the United States and Europe manufacturers
Pharmaceutical Value Chain
The value chain is heavily influenced by the world of big and generic pharma
Fine chemical manufacturers have experienced shifts in the product philosophy due to historical market factors which has translated into widespread under-utilization of assets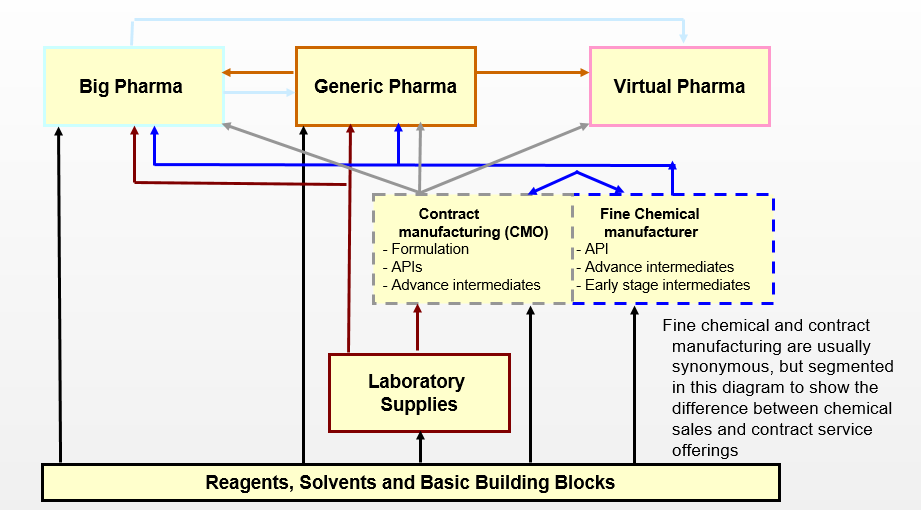 Fine Chemical & Custom Manufacturers
Fine chemical manufacturers and CMOs serve two purposes in the pharmaceutical market
Supply of fine and specialty chemicals
Custom synthesis of advance intermediates and APIs
Advanced formulation services typically provided by specialized CMOs not affiliated with fine chemical companies (e.g., sterile injectables)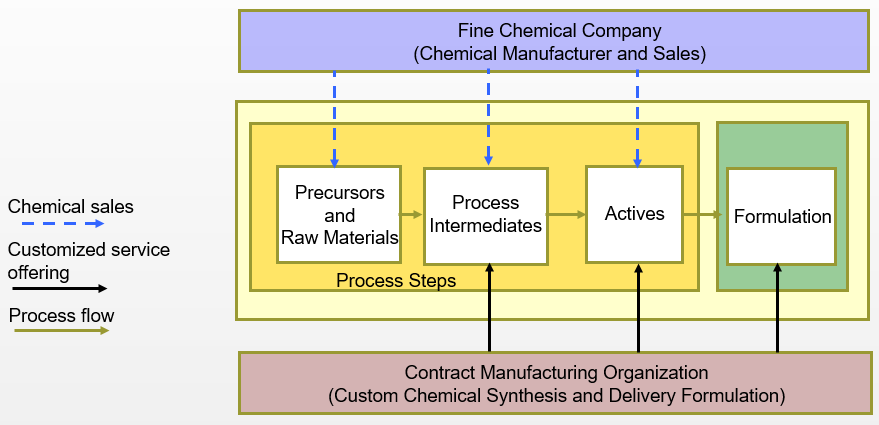 Pharmaceutical Drug Development & Purchasing Schemes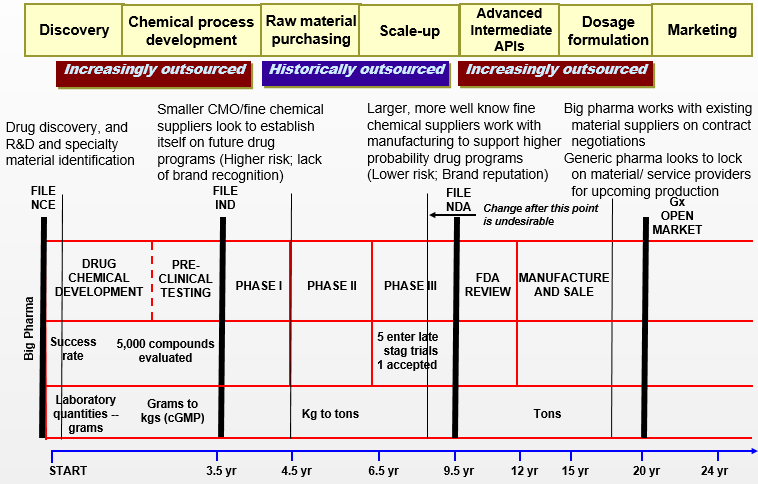 Top 50 Suppliers of Small Molecule API's
Market is still highly diffuse
Top 20 companies account for less than 40% of the market
AbbVie
Aesica
Albemarle
Almac
AMPAC
Aptuit
Ash Stevens
Avid Bioservices
BASF
Cambrex
Codexis
Corden Pharma
CU Chemie Uetikon
Dishman
Dottikon
Dr. Reddy's
Evonik
Fareva
FIC
GSK
Halo
Heisinn
Hetero
Hisun USA
Hospira One2One
IDT Australia
Infa
IRIX
Johnson Matthey
Lanxess
Lonza
Neuland
Novasep
PCI
Penn
Pfizer CentreSource
PharmaCore
Pharmazell
Piramal
Regis
SAFC
SAI
Sanofi CEPIA
Siegfried
Solvias
Stason
Takeda
Wockhardt
Wuxi AppTec
Zach
Top Ten Suppliers
Top ten competitors account for about 25% of the market

BASF
Evonik
Lonza
Saltigo (Lanxess)
Johnson Matthey
Teva
Sumitomo Chemical
DPX (DSM/Patheon)
Cambrex
Siegfried

The leading manufacturer accounts for only 5% of the business
Conclusions
The market for APIs is large and growing at a strong rate
The business is now driven by small molecule development and will continue for the near future
While many competitors compete in this business around the globe, no company dominates
The top ten manufacturers only account for 25% of the business and the leader is estimated to have only a 5% share
The pharmaceutical development is still concentrated in the United States and Europe
The industry is interested in a dependable supply chain in terms of development, delivery and quality and, as a result, local supply is becoming important
The Asian players, of which there are many, will continue to play a role in the business, but much of the manufacturing is focused on commodity compounds and less sophisticated manufacturing know-how
As a result, SAI believes that there are many opportunities for companies looking to expand their businesses
SAI, a leading international business consulting firm with 375 employees in 13 operations worldwide with staff in North America, Europe, Brazil, India, and China has analyzed the ingredients used in the manufacture of pharmaceuticals, including APIs and excipients for over 30 years
As you review this attractive market opportunity, SAI's staff is available to provide expert knowledge, analysis and advice to help you achieve your objectives. Click here to contact us today.